Information to be transmitted to international researchers – EURAXESS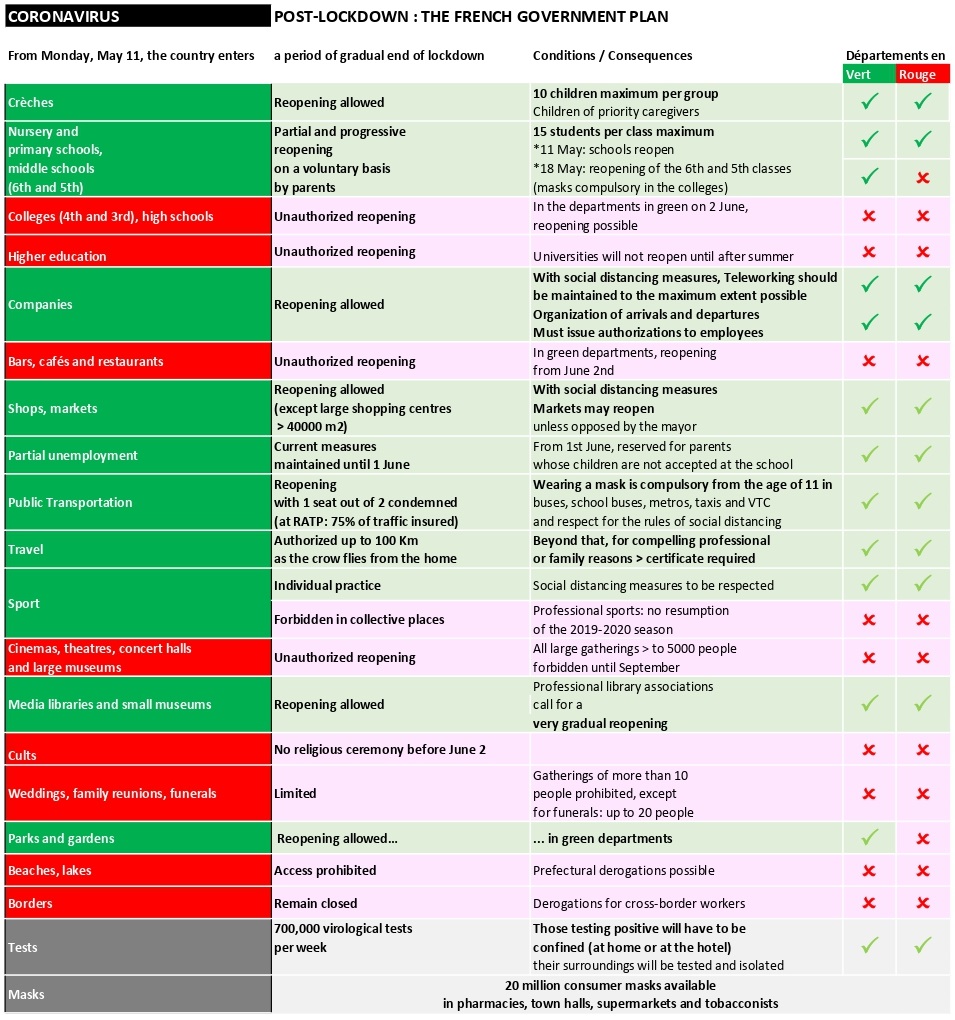 Due to the pandemic situation linked to the progression of covid-19, the French authorities decided on a lockdown period from March 16 to May 11, 2020.
From Monday, May 11, the country enters a period of gradual end of lockdown.
France is divided into red and green departments according to the following map: https://www.gouvernement.fr/info-coronavirus/carte-et-donnees.
Reminder of the main measures valid from May 11, 2020:
MOBILITY
The certificate of derogatory movement is no longer required to leave your home. The exit time is no longer limited, however gatherings of more than 10 people are prohibited.
Wearing a mask is highly recommended in public spaces and compulsory in public transport (bus, metro, tram, train, etc.).
Travel is authorized within a 100 km radius of the home or also within the same department without limitation of distance.
Beyond 100 km, a special authorization is required based on a compelling professional or family reason.
European and international borders remain closed for the time being.
EVERYDAY LIFE
Stores and shopping centers are opening again little by little (except restrictions in Ile-de-France): it is strongly recommended to wear a mask and imperative to respect the safety distance between each customer.
Places of worship are open from May 11, but ceremonies prohibited.
Practicing sport outside is authorized.
Libraries and media libraries, small museums are open. Other cultural places (large museums, cinemas, theaters, opera houses, etc.) remain closed.
The parks and gardens are open in the green departments.
Bars, cafes and restaurants remain closed for the time being.
FAMILY-CHILDREN
The nurseries open their doors from Monday 11 May but only welcome 10 children per group.
The opening of nursery and primary schools starts from May 11 gradually, on the basis of family volunteering. Each academy defines its rules according to the precise local situation.
Middle schools will be open from May 18 in the green zones and from June 2 in the red zones.
High schools and universities will remain closed until September 2020.
PROFESSIONAL LIFE
As far as possible, remote work from home is recommended until further notice.
Ask your host establishment and your laboratory manager for more information.